About the Artist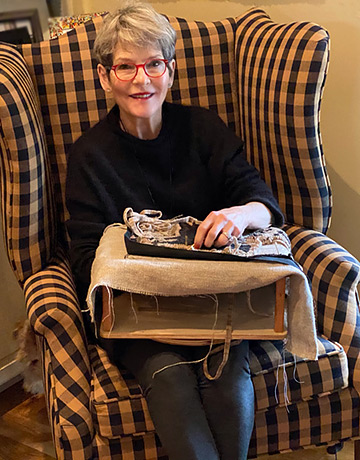 I have been dying wool and hooking rugs for over 35 years. I live in the Village of Campton Hills, a quaint village West of Chicago. I am blessed to live with my husband and among the trees, deer, frogs in their pond, beavers, and my beautiful birds. It is within this stillness of nature that brings inspiration and joy to my work. I'm additionally blessed to have my children and grandchildren living nearby.
I have been featured on HGTV's "Country at Home" with Mary Emmerling. I was able to demonstrate how to dye wool, incorporate the colors, and hand hook the rug. I was also able to show how well my pieces can be blended with antiques in my home.
My work has been featured in publications including Chicagoland's Daily Herald, Rug Hooking Magazine, and Early American Life's Annual directory of Traditional American Artisans. My pieces have been displayed at art shows in Carmel by the Sea, Colonial Williamsburg, and many Folk Art shows throughout the country. I also have taught the art of rug hooking at Community Colleges, in Cape cod, at Colonial Williamsburg, and in classes at my home.
I really enjoy using antique materials such as Victorian Age paisley, old army blankets, and my clients' loved one's clothing in my pieces.
Thank you so much for visiting my site and feel free to contact me if you would like a special family piece.
~Jennifer